County Championships 2018
07/03/2018
Jess leads charge at County Championships
The Chichester Cormorants squad of 17 swimmers entered 59 events and swam 33 personal best times. Bottom row from left: James Potts, Max Sydenham, Dylan Atkinson, Sean Savage, Florence Ingram, Eva Doubler, Lauren Smith; top row from left: Fraser Lyne, Olivia Spink, Seb Hadnett, Mia Clive, Adam Long, Jess Rayner, Broghan Collier.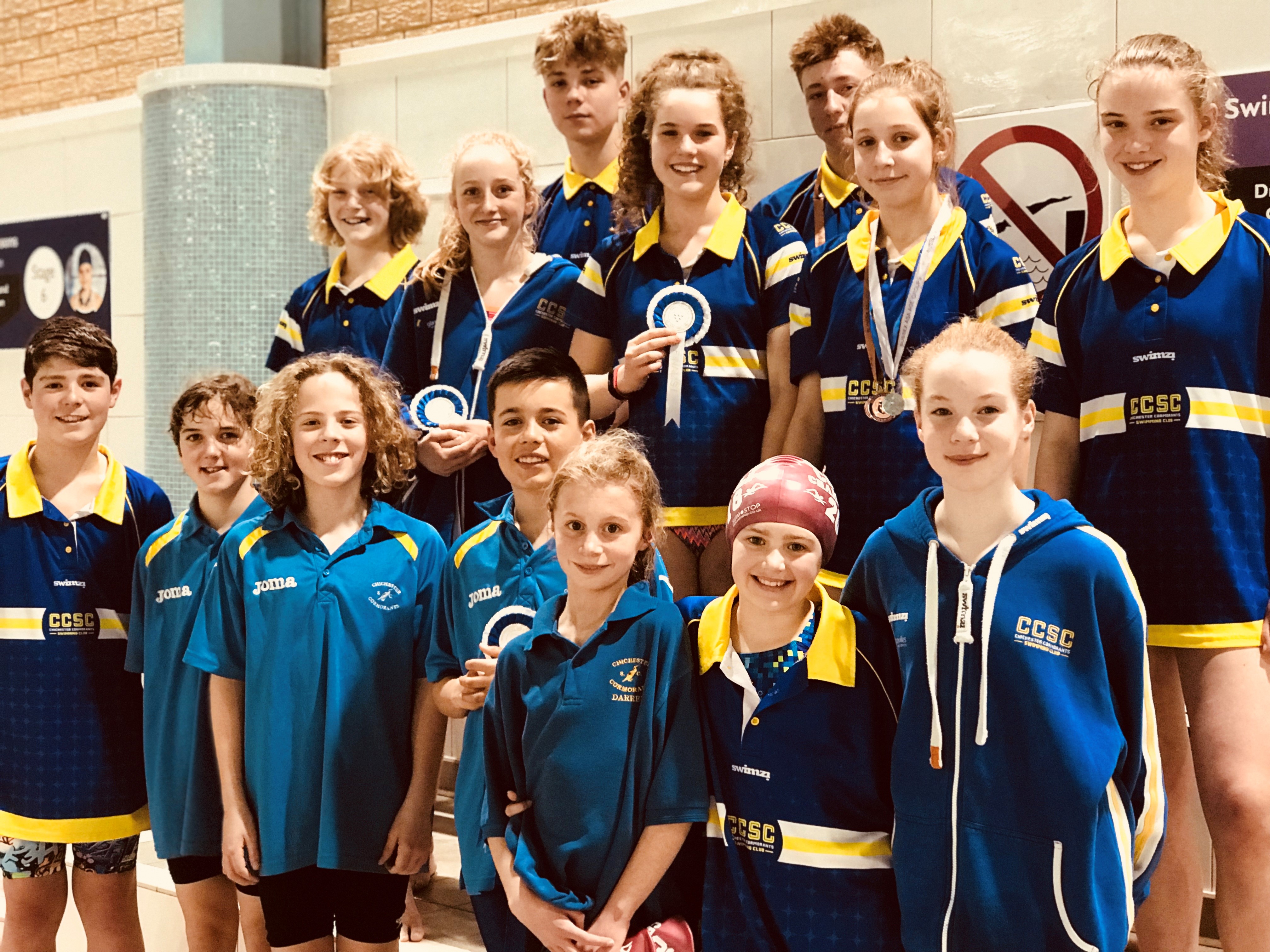 Jess Rayner of Chichester Cormorants was at the head of a list of great results at the recent County Swimming Championships. Not only did Jess bag silver in the 50 metres butterfly and bronze in the 100 metres butterfly; her performance also earned bronze in the overall junior championship. This ranks as one of the best ever results at Counties by a Chichester swimmer.
Another excellent swim came from Adam Long, the Club Captain, who led by example in the 200 metres breaststroke. This punishing event forces racers to strike a tricky balance between outright speed and endurance, and Adam judged his swim well to bag a bronze medal. This, plus strong races in the 50 metres and 100 metres breaststroke, helped Adam to sixth place in the overall final. In earlier years a result like that would have been a standout best for Cormorants – the fact that this year Adam was vying with Jess is a sign of the club's increased strength and competitiveness.
The future for Chichester's swimmers looks bright, based on the swims of several first-time County competitors. Two of them even made finals: Sean Savage in the 12 years 50 metres breaststroke, and Mia Clive in the 15 years 50 metre backstroke. Other first-time qualifiers included Max Sydenham, who swam personal bests in three events. Florence Ingram and Eva Doubler, both just 10 years old, also picked up priceless experience of high-level competition.
Cormorants head coach Darren Sims was delighted with how the swimmers had performed: "A record number of swimmers qualified to swim at Counties this year, which shows how the club is improving overall. Once they got there, the qualifiers all put in maximum effort, as their results show. I feel very proud of all the work the swimmers put into their training and racing."
---