OPEN WATER 2019 REPORT
Round 2 report
Race 2 of the open-water series again lucked into perfect swimming conditions: sunshine, warm sea, no wind, and just a tickle of current at the end to make it interesting. (We're getting a bit worried that the swimmers will think it's always like this. It's not.) This year's beach-start format is working really well, so thanks to those who suggested it.
There was more tight racing and the course got entertainingly busy at times. It's tight at the top of the points table, with six swimmers currently tied for 10 points: Ella Seacombe, Ethan Hill, Mitchell Newell, Olivia Spink, Jane West, Paul Mason.
The final race will be in early September. We're hoping to use a slightly different format next time, an along-the-coast swim with the tide, going from the Wittering gap (for the oldest swimmers) to the lifeguard station at West. That's quite tricky to organise, though, with different entry points for different age groups, so we'll see.
Race 2 results in full: G10/U: 1 Ella Seacombe (winning time for 1 lap: 10:41); 2 Amber Haig; 3 Isla Hill. B10/U:1 Ethan Hill (1 lap: 10:24); 2= Charlie Stevenson, James Lake. G12/U: (this result may change, as no finishing place was recorded for Tilly Discombe-Wells: the stewards are investigating the photographic record) 1 Jess Charlesworth (w.t. not recorded); 2 Florence Ingram; 3 Daisy Gault. B12/U: 1 Mitchell Newell (2 laps 15:14); 2 Alex Sydenham; 3 Ben Charlesworth. G15U: 1 Olivia Spink (3 laps 20:32); 2 Mia Clive; 3 Amelia Redman; 4 Edith Ingram. B15/U: 1 Max Sydenham (3 laps 20:06); 2 George Gibbens; 3 Alfie Carr. W16/O: 1 Jane West (4 laps 29:40); 2 Alison Carr. M16/O: 1 Paul Mason (4 laps 23:59); 2 Adam Long; 3 Neil Bradfield; 4 Luke Target; 5 Kerrin Cruttenden; 6 Rickard Rossell; 7 David Charlesworth; 8 Richard Thomas
Round 1 report
We had a beautiful evening for the first open-water race this year: just about the best swimming conditions we get down here in Wittering. The swimmers did really well, especially given the added spice of a surprise cross-shore current on the way out to the first turn buoy. It was great to see one or two really close races: there were just 3 seconds between first and second in both the 12U boys and girls.
Initially the lap distance was roughly 350 m, but we had to move the buoys into deeper water before the start and I'm pretty sure it ended up being more like 400 m.
The results:
Girls 10 and Under: 1 Ella Seacombe (winning time for 1 lap: 11:52); 2 Isla Hill; 3 Amber Haig [DNF: Jasmine Carr]
Boy 10 and Under:1 Ethan Hill (w.t. for 1 lap: 12:35); 2 Charlie Stevenson; 3 James Lake; 4 Rohan Down [DNF: Harry Cruttenden, Aron Viszoki]
Girls 12 and Under: 1 Florence Ingram (w.t. 2 laps 24:23); 2 Daisy Gault
Boys 12 and Under: 1 Mitchell Newell (w.t. 2 laps 16:26); 2 Max Sydenham; 3 Alex Sydenham; 4 William Baker; 5 Joshua Minkey
Girls 15 and Under: 1 Olivia Spink (w.t. 3 laps 20:57); 2 Ailsa Hamilton; 3 Mia Clive; 4= Amelia Redman, Lauren Smith, Iona Hamilton
Boys 15 and Under: 1 George Gibbens (w.t. 3 laps 21:09); 2 Alfie Carr; 3 Sam Wren
Women 16 and Over: 1 Jane West (w.t. 4 laps 29:57); 2 Anne Sydenham; 3 Alison Carr
Men 16 and Over: 1 Paul Mason (w.t. 4 laps 25:07); 2 Adam Long; 3 Darren Swims; 4 Rickard Rossell; 5 Lee Sydenham; 6 Richard Thomas
In a change to last year's scoring, 1st = 5 points toward the series total, 2nd = 4 points, 3rd = 3 points.
13 July 2019 South-east Open Water Championships at Chichester Watersports (see Event website). This is a great chance to try open-water racing close to home, at a friendly, well-run event. The youngest age allowed is 12 (by the year end, so many 11-year-olds can enter), over a distance of 2k. There are 3k and 5k races for older swimmers and a 3k race for Masters.
OPEN WATER 2018 REPORT - Well done everyone who took part in the open-water races this year: it's been a blast. The final race took place at Northlands Farm: if you missed it, you missed an admittedly chilly treat in beautiful surroundings. It was a really enjoyable change to swim in still water free of currents, tides and waves.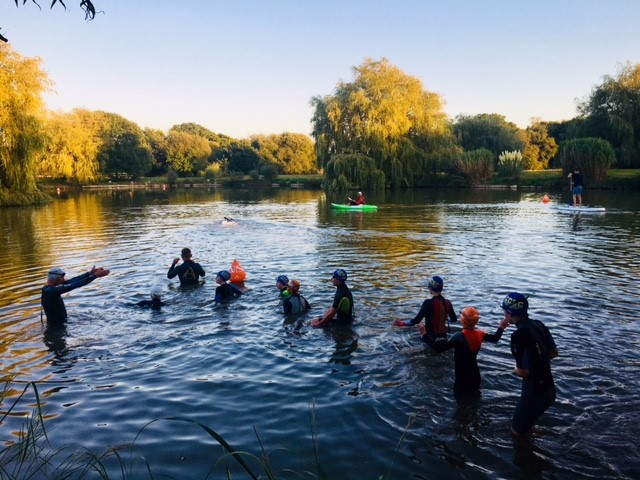 At the end of it all, we have a tie for first place between four swimmers, each getting a surfing lesson as a prize and some goodies from West wittering club. Proving once and for all that girls are significantly tougher than boys, they are:

Florence Ingram
Lauren Smith
Olivia Spink
Jane West